What is the Spiritual Meaning of the Color White? Purity!
The spiritual meaning of the color white is associated with purity, divinity, and enlightenment. This color is often seen as a symbol of innocence, light, and spiritual awakening in various cultures.
White, in a spiritual sense, embodies the purest form of light, representing divinity and spiritual perfection. It's often used in religious ceremonies and spiritual practices, symbolizing purity, innocence, and enlightenment.
For example, in Christianity, white is used during baptism and wedding ceremonies, symbolizing a new beginning and purity of soul.
Purity: White is often associated with purity and cleanliness in a spiritual context. It represents an unblemished state, free from impurities.
Enlightenment: The color white symbolizes enlightenment, knowledge, and spiritual awakening. It is seen as the color of divine light.
Innocence: White also stands for innocence, representing a pure, uncorrupted state of being.
The color white holds deep spiritual symbolism, reflecting purity, enlightenment, and innocence. It's a powerful spiritual color, representing divine light and spiritual awakening.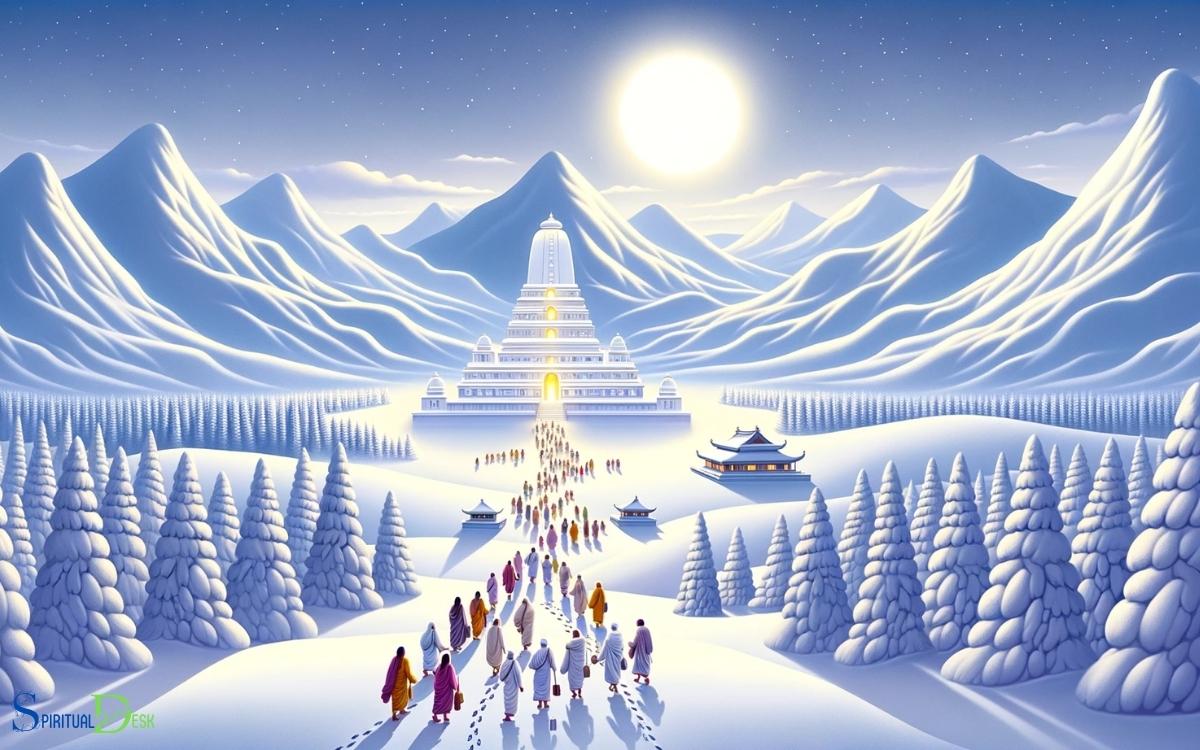 Symbolic Associations
In your spiritual journey, you may find that the color white holds significant symbolic associations. White often represents purity, innocence, and divine light. It's a color that transcends darkness and brings clarity to the soul.
When you surround yourself with white, you invite a sense of peace and serenity into your life. White has the power to cleanse and purify, washing away negativity and allowing the spirit to soar.
It's a color that reminds us of the infinite potential within ourselves, the possibility for renewal and rebirth.
White is a canvas upon which we can paint our dreams and aspirations, a reminder that we've the power to create a life filled with light and goodness.
As we delve deeper into the spiritual realm, let's now explore the significance of white in religious traditions.
White in Religious Traditions
White holds a sacred place in various religious practices, symbolizing purity, divinity, and transcendence.
Here are four ways white is revered in religious traditions:
Christianity:
White is associated with holiness and righteousness in Christianity. It represents the purity and innocence of Jesus Christ, as well as the angels and saints.
White vestments are worn by clergy during important religious ceremonies, symbolizing their spiritual connection to God.
Buddhism:
In Buddhism, white is linked to enlightenment and spiritual awakening. White lotus flowers, often depicted in Buddhist art, represent the purity of mind and spirit. Monks and nuns wear white robes as a symbol of their renunciation of worldly desires.
Hinduism:
White symbolizes purity, truth, and peace in Hinduism. It's often associated with deities such as Lord Shiva and Saraswati, the goddess of knowledge. White is worn during religious ceremonies and rituals to evoke spiritual purity and divine blessings.
Islam:
For Muslims, white represents purity, cleanliness, and humility. It's the preferred color for clothing during religious pilgrimages, such as the Hajj, to symbolize unity and equality before God. White is also associated with the Prophet Muhammad, who often wore white garments.
In religious traditions worldwide, the color white carries deep spiritual significance, reminding practitioners of the divine purity and transcendence they seek in their spiritual journey.
8 Aspects: Spiritual Meanings of the Color White
| Spirituality Aspect | Meaning of White Color |
| --- | --- |
| Purity | White represents purity or innocence in spiritualism. It's often associated with goodness, which is why angels are usually represented in white. |
| Light | In terms of light, white is the most powerful color. It can cleanse and purify your thoughts, emotions, and spirit. |
| Unity | White symbolizes unity because it contains all other colors within it. |
| Truth | White is also associated with truth in many cultures, as it represents clarity without any hidden agenda. |
| Awakening | Spiritually, white also represents the enlightenment, awakening of the inner soul and a new beginning. |
| Protection & Comfort | White color is believed to have protective and comforting properties, bringing calmness and acceptance. |
| Transformation | In the spiritual context, white color is also seen as the color of death, representing a transformative phase. |
| Healing | The color white is often associated with healing and rest, aiding in physical, emotional, and mental clearing. |
8 Aspects: Spiritual Meanings of the Color White
White as a Symbol of Purity
White is commonly regarded as a symbol of purity. It evokes a sense of cleanliness, innocence, and untainted beauty.
When we think of white, we imagine a fresh snowfall, a blank canvas, or a pristine wedding dress. This association with purity stems from its connection to light and clarity.
White reflects all colors, representing the absence of impurities or blemishes. It's the color of new beginnings, a clean slate on which we can write our stories.
In a spiritual context, white symbolizes the purification of the soul, the shedding of negative energies, and the attainment of spiritual enlightenment.
It invites us to cleanse our thoughts, actions, and intentions, encouraging us to strive for a state of inner purity.
White reminds us that within each of us lies the potential for transformation, growth, and transcendence.
White as a Symbol of Light
The luminosity of white illuminates the path to spiritual enlightenment. White, as a symbol of light, carries profound spiritual significance.
Here are four insights into its meaning:
Illumination: White represents the radiance of divine light that shines upon our souls, guiding us toward truth and understanding. It serves as a reminder that we aren't alone in the darkness, but rather embraced by a higher power.
Clarity: White clears away the fog of confusion, allowing us to see the world with greater clarity. It brings forth a sense of purity and simplicity, enabling us to discern what truly matters in our spiritual journey.
Transformation: White symbolizes the transformative power of light. Just as light can dispel darkness, white serves as a catalyst for inner growth and spiritual evolution. It invites us to release old patterns and embrace new beginnings.
Unity: White transcends boundaries and divisions, symbolizing the unity of all things. It reminds us that we're interconnected and that through love and compassion, we can create a harmonious and enlightened world.
In embracing the symbolism of white as light, we awaken to the beauty and wisdom that surrounds us and embark on a journey toward spiritual enlightenment.
White in Spiritual Awakening
As you embark on your journey of self-discovery and spiritual growth, the color white emerges as a powerful force.
White symbolizes purity, clarity, and transcendence, inviting you to shed the layers of darkness and embrace the light within. It represents a blank canvas, a clean slate upon which you can paint your intentions and dreams.
White carries the energy of awakening, offering a sense of renewal and rebirth. It encourages you to release old patterns and beliefs, allowing new insights and wisdom to enter your consciousness.
White serves as a reminder that you're a divine being, connected to something greater than yourself. Embrace the white light and let it guide you on your path to spiritual enlightenment.
Interpretations Across Cultures
Across different cultures, interpretations of the color white vary widely, reflecting diverse beliefs and spiritual practices.
Here are four fascinating interpretations of white across cultures:
In Western cultures, white often symbolizes purity, innocence, and peace. It's associated with weddings, where the bride wears a white dress as a symbol of her purity and a new beginning.
In Eastern cultures, white represents death and mourning. It's the color worn at funerals and is associated with the afterlife and the spirit world.
In Native American cultures, white is associated with the spirit and the power of purification. It's seen as a color that brings healing, clarity, and spiritual protection.
In some African cultures, white is connected to the ancestors and is seen as a symbol of spiritual enlightenment and guidance.
These interpretations highlight the rich tapestry of human beliefs and remind us of the profound ways in which color can shape our understanding of the spiritual realm.
Conclusion
As you delve into the spiritual meaning of the color white, you uncover a profound truth. White, like a pristine lotus emerging from murky waters, symbolizes purity and illumination.
Across religious traditions and cultures, white is revered as a beacon of purity and a harmonizing force.
It serves as a reminder that in the midst of darkness, there's always the potential for enlightenment and spiritual awakening. Embrace the essence of white and let it guide you on your transformative journey.
FAQ About What Is The Spiritual Meaning Of The Color White?
What Does The Color White Symbolize In Spirituality?
White symbolizes purity, innocence, clarity, and spiritual enlightenment in various spiritual traditions.
How Does The Color White Impact Our Emotions And Thoughts?
The color white can evoke feelings of peace, calmness, and simplicity, helping to clear our minds and promote positive thinking.
Is White Associated With Any Specific Spiritual Practices Or Religions?
Yes, white is often associated with spiritual practices like meditation, as well as with purity in religions such as Christianity, Hinduism, and Buddhism.
Can White Be Used As A Tool For Spiritual Healing?
Using white in healing practices can help purify the energy field and promote spiritual and emotional healing.
How Can We Incorporate The Color White Into Our Spiritual Practices?
You can incorporate white through meditation, visualization, wearing white clothing, surrounding yourself with white objects, or using white candles.