What is the Spiritual Meaning of Candle?
When you light a candle, what is the first thing that comes to your mind? Is it setting the mood for a romantic dinner or filling your home with a warm, inviting glow? For many people, candles are also associated with spirituality.

There is something about the flickering flame of a candle that can be mesmerizing and calming, almost like a gateway into another realm. It's no wonder that candles have been used in religious ceremonies and rituals for centuries. So what is the spiritual meaning of candles?

In general, candles represent three things: light, fire, and spirit. Let's take a closer look at each one of these meanings. Light: Candles are often seen as symbols of hope and guidance.

In times of darkness or uncertainty, lighting a candle can be like sending out a beacon of light into the world. The flame itself can represent courage or strength in the face of adversity. Fire: From a more literal perspective, fire is often seen as purifying force.

This is why many cultures use fire in their cleansing rituals. When you light a candle, you are literally harnessing the power of fire to help cleanse your space (and yourself) on a physical and metaphysical level. Spirit: Last but not least, candles also symbolize spirit or energy.

When you see a group of people gathered around candles in prayer or meditation, they are tapping into the collective energy field that surrounds us all. By focusing their intention on the flickering flames, they are able to connect with this higher power and receive guidance or clarity from within.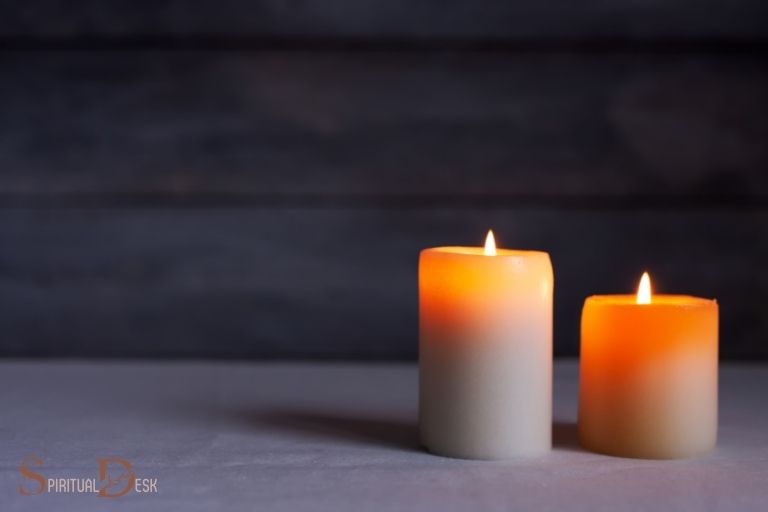 What Does A Candle Symbolize?
A candle is often used as a symbol of prayer or as a sign of respect and remembrance. For many, it also represents hope.
What Does The Candle Symbolize In Christianity?
The candle is a universal symbol that has been used throughout history to represent a variety of meanings. In Christianity, the candle often symbolizes the light of Christ or the Holy Spirit. It can also be used as a metaphor for Jesus as the "light of the world." Candles are also used in many Christian ceremonies and rituals, such as baptisms, funerals, and communion.
Watch Video: The Spiritual Powers Of Candle!
What Do Burning Candles Symbolize
When you light a candle, what do you think of? For many people, candles represent relaxation. The flickering flame is mesmerizing and can be used as a form of meditation.

Candles are also associated with setting the mood for romance or creating a calming ambiance.
In general, burning a candle is symbolic of bringing light into the darkness. It can represent hope, purity, and spiritual guidance. Candles are also often used to remember loved ones who have passed away.
The flame is seen as a connection to the spirit world. Whether you use candles for decoration, practicality, or spirituality, take a moment to think about the history and meaning behind this simple act next time you light one up!
Lighting A Candle For The Dead Meaning
When you light a candle for the dead, it is a sign of respect and remembrance. It is also a way to connect with the deceased and their spirit. The flame of the candle symbolizes the eternal life of the soul, and as the candle burns, it is believed that the dead are able to hear your prayers.

There are many traditions surrounding candles and death. In some cultures, candles are lit at funerals and gravesites. In others, they are used in memorial services or placed on altars dedicated to the dead.

Candles can also be used in private rituals or ceremonies to honor a loved one who has passed away. No matter how you choose to use them, lighting candles for the dead is a beautiful way to keep their memory alive.
Symbol Of Candle In Death
The candle is a powerful symbol, often used in religious ceremonies and as a sign of respect or mourning. In many cultures, candles are used to represent the departed soul and are burned during funerals or memorial services. The flickering flame of a candle can be seen as a metaphor for the life force itself, and the light of the candle is seen as a guide for the deceased on their journey to the afterlife.

For some, the burning of candles is also seen as a way to connect with loved ones who have passed away. By lighting a candle in their memory, we keep their spirit alive and close to us. Candles can also be used as part of spells or rituals designed to bring about positive change or achieve specific goals.

Whatever your beliefs, there is no doubt that candles hold great power and meaning. If you are looking for a way to honor someone who has died or create more light and positivity in your own life, consider making candles part of your practice.
Symbolism Of Candles
Candles are often used as symbols in religious or spiritual settings. They may represent the light of God or the soul of a person. Candles can also be used to represent hope, purity, and other positive qualities.
Meaning Of Lighting A Candle for Someone
When you light a candle for someone, it is a sign of hope. It shows that you are thinking of them and wishing them well. Candles are often used in prayer, and lighting one for someone can be seen as a way of sending them your positive thoughts and energy.
There is no single meaning of lighting a candle for someone. It can be done as part of a religious or spiritual practice, or simply as a gesture of goodwill. Whether you are Catholic and lighting candles in church, or Buddhist and meditating with candles at home, the act of lighting a flame can represent different things to different people.
For many, the act of lighting a candle is symbolic of letting go. As the flame burns, it can represent releasing negativity or bad vibes from your life. If you are struggling with something in your life, like grief or anger, sometimes it can help to write down your thoughts on paper and then set them alight with a candle.
Watching the paper burn away can be strangely therapeutic and can help you to feel like you are moving on from whatever was troubling you. Sometimes people will light candles for others who are going through tough times, as a way of showing their support.
Candle Meaning In Life
Candles are often thought of as a source of light or warmth, but they can also be used as a tool for self-reflection and contemplation. When you take the time to meditate on the meaning of a candle, it can be a powerful way to connect with your innermost thoughts and feelings. There are many different interpretations of what a candle symbolizes.

For some, it may represent the light of hope in the darkness. Others may see it as a representation of their own inner light, shining brightly even in the midst of difficult times. When you reflect on the meaning of candles in your life, it can help to bring clarity and peace to your mind.

If you're feeling lost or confused, taking a few moments to focus on the flame of a candle can help you find your way back to yourself.
Candle Symbolism Love
Candles have long been associated with love, and there are many different interpretations of what they symbolize. In some cultures, candles are thought to represent the light of love, while in others they may be seen as a more practical way to ward off evil spirits. Whatever their meaning, candles play an important role in many romantic rituals and ceremonies.
| | |
| --- | --- |
| One popular belief is that candles can help attract love into your life. If you're single and looking for love, lighting a candle may help you find your soulmate. It's said that when you light a candle and make a wish for true love, the Universe will hear your request and work to bring it to fruition. | Another interpretation is that candles represent the flames of passion. When two people are deeply in love, it's said that their hearts burn with desire for one another. Candles can be used to ignite or rekindle the fires of passion in a relationship. |
Candle Symbolism Love


If your relationship has lost its spark, try lighting some candles and see if it helps reignite the flame of desire between you and your partner. No matter what your beliefs about candle symbolism may be, there's no denying that they add a touch of romance to any setting. So whether you're hoping to attract new love into your life or rekindle the passion in an existing relationship, don't forget to keep some candles around!
Candle Symbolism In Literature
Candle Symbolism in Literature In literature, candles often symbolize hope. They are often used as a motif to represent the flickering light of hope in the face of darkness and adversity.

In addition, candles can also symbolize warmth, comfort, and protection. One of the most famous examples of candle symbolism can be found in The Lord of the Rings trilogy by J.R.R. Tolkien. In this epic fantasy series, candles are regularly mentioned as being lit in windows to guide Frodo Baggins and his companions on their journey through Middle-earth.

The candles represent the hope that those at home have for the safe return of their loved ones. Another example of candle symbolism can be found in Charles Dickens's A Christmas Carol. In this classic holiday story, Scrooge is visited by three ghosts who take him on a journey through his past, present, and future.

At one point during his travels, Scrooge sees a single candle burning in a window and is told that it represents the love and generosity of Bob Cratchit's family towards him despite his coldheartedness towards them. This moment is significant because it shows how even a small act of kindness can make a big difference in someone's life.
Finally, candle symbolism also appears in many religious texts such as the Bible and the Koran. For Christians, candles are often used during worship services as a way to represent Christ's light shining into the world (John 8:12). Muslims also use candles during religious ceremonies to remember Allah's guidance and light (24:35).
Conclusion
Candles have been used in religious ceremonies for centuries. In fact, candles are mentioned in the Bible numerous times. Candles are also used in many pagan and Wiccan rituals.

So, what is the spiritual meaning of a candle? Simply put, candles represent the light of Spirit. They remind us that we are connected to a higher power and that we have access to divine guidance and support.

Candles also symbolize our own inner light – the part of us that is connected to Source energy. When we light a candle, we are opening ourselves up to receive guidance from our higher selves or from spirit guides. We are also setting an intention for our prayers or affirmations.

For example, if we want to attract more love into our lives, we might light a pink candle while saying an affirmation such as "I am surrounded by love" or "I attract only loving relationships into my life". Candles can also be used during meditation to help focus your attention on the flame and connect with your breath. The act of lighting a candle can itself be meditative, as it allows you to take a moment out of your busy day to connect with your spirituality.