What Is the Meaning of Spiritual Beliefs? Comfort, Guidance
Spiritual beliefs refer to a person's deeply held convictions about the nature of existence, purpose, and meaning in life, often involving a higher power or transcendent reality.
Spiritual beliefs can be an essential aspect of one's identity, shaping perceptions, values, and actions.
These beliefs might be rooted in religious or non-religious frameworks, such as humanism, pantheism, or animism.
They often serve as a source of comfort, guidance, and inspiration, helping individuals face life's challenges and uncertainties.
Spiritual beliefs may be religious or non-religious in nature
They provide a framework for understanding existence and life's purpose
Spiritual beliefs can offer comfort, guidance, and inspiration
They can influence a person's values, actions, and relationships
Spiritual beliefs should not be confused with religiosity, as spirituality can exist outside of organized religion. It is a deeply personal experience that varies from person to person.
These beliefs can help individuals connect to a higher power or purpose, fostering a sense of inner peace and resilience in the face of adversity.
By exploring and nurturing one's spirituality, an individual can develop a greater understanding of their place in the world and the interconnected nature of all things.
8 Spiritual Beliefs & Meaning
| Spiritual Beliefs | Meaning |
| --- | --- |
| Karma | The belief in the cause and effect relationship between one's actions and the consequences that follow. Good actions lead to positive results, while negative actions lead to negative consequences. |
| Reincarnation | The belief that the soul experiences multiple lifetimes in various physical forms to learn and grow spiritually. After death, the soul is reborn into a new body, continuing its journey of spiritual evolution. |
| Higher Power | The belief in a divine or supernatural force greater than oneself that influences our lives, provides guidance, and offers support in times of need. This higher power may be known as God, the Universe, or any other name or concept. |
| Enlightenment | The state of achieving ultimate spiritual understanding and awareness, often through personal introspection, meditation, or other spiritual practices. Becoming enlightened is often considered the ultimate goal of spiritual growth. |
| Prayer/Meditation | The practice of communicating with a higher power or focusing one's mind for the purpose of spiritual growth, healing, or personal transformation. These practices are often used to develop a deeper understanding of oneself and one's place in the universe. |
| Spiritual community | The coming together of individuals who share similar spiritual beliefs and practices, offering support, encouragement, and guidance as they progress on their spiritual journey. |
| Holistic healing | The belief that emotional, mental, physical, and spiritual well-being are interconnected and that healing should encompass all aspects of the self. Holistic healing may incorporate traditional and alternative therapies for optimal well-being. |
| Inner guidance | The belief that each individual possesses an innate wisdom or intuition that can guide them on their spiritual journey and help them make important decisions in their lives. Turning inward and connecting with this inner guidance is an essential aspect of spiritual growth. |
8 Spiritual Beliefs & Meaning
Key Takeaway
Spiritual beliefs provide deeper meaning to life experiences
They vary greatly among individuals and cultures
They can offer a sense of purpose and inner peace
Spiritual beliefs can be subjective and personal, and may evolve over time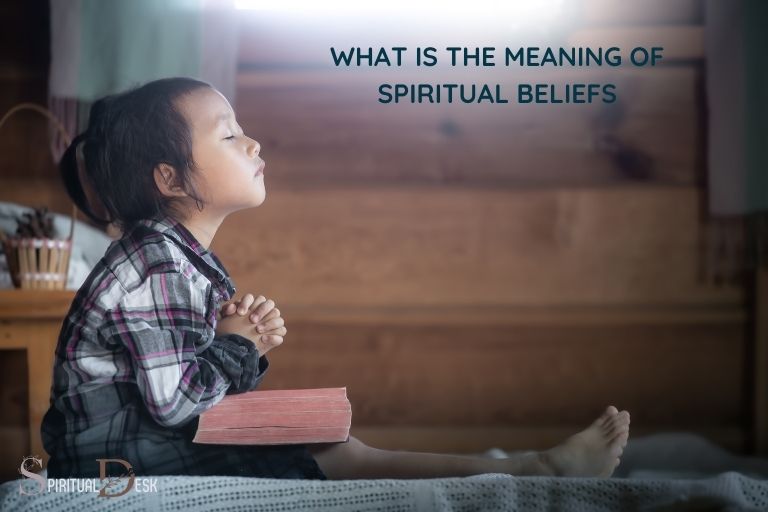 Four Facts About Spiritual Beliefs
Spiritual beliefs are often a belief in a higher power or a divine force that governs the universe and provides purpose and guidance to life. They are different from religious beliefs, as spiritual beliefs typically focus more on personal growth and connection to a higher power, rather than structured religious practices and rituals. (Source: PsychologyToday)
There is a wide diversity of spiritual beliefs, practices, and traditions around the world, which can include belief in a God or gods, nature spirits, ancestors, or personal spiritual guides. By acknowledging this diversity, we can cultivate a deeper understanding and respect for the spiritual beliefs of others. (Source: HuffPost)
Many spiritual beliefs encourage practices such as meditation, prayer, and mindfulness, which have been shown to provide numerous mental and physical health benefits, including reduced stress, increased emotional regulation, and improved focus. (Source: Mayo Clinic)
A belief in spirituality can contribute to community building, as it often fosters a sense of connectedness among individuals, regardless.
Exploring The Concept Of Spirituality
Spirituality is a broad and complex concept that can have various meanings depending on how it's perceived.
In general, spirituality is about connecting with something bigger than ourselves, whether it's nature, a higher power, or our inner selves.
It's a journey to finding meaning and purpose in our lives that can lead us to a sense of fulfillment and happiness.
Definition Of Spirituality
Spirituality is an inner journey that involves exploring our inner selves, our connection with others, and the world around us. It's a quest for truth and meaning that can lead us to a sense of purpose and fulfillment.
It's not about blindly following a set of rules or beliefs but rather about discovering our own truth and living our lives in alignment with it.
Spirituality can be different for each person, but it generally involves the following:
A belief in something bigger than ourselves
Seeking meaning and purpose in life
Finding inner peace and happiness
Connecting with others and the world around us
Living in alignment with our values and beliefs
The Difference Between Faith And Religion
Although spirituality, faith, and religion are often used interchangeably, they are not the same thing.
Faith refers to a belief in something, whether it's a higher power, a particular philosophy, or a cause. It doesn't necessarily involve rituals or traditions.
In contrast, religion refers to a set of beliefs, practices, and rituals that are shared by a group of people. It usually involves organized institutions and a specific set of doctrines or dogmas.
Spirituality, in contrast to faith and religion, is more personal and individualized. While it can involve connecting with a higher power, it's not necessarily bound by any particular set of beliefs or practices.
The Role Of Spiritual Beliefs In Human Lives
Spiritual beliefs can play a significant role in human lives, providing a sense of purpose, meaning, and direction. They can help individuals cope with life's challenges and provide support during difficult times.
Spiritual beliefs can also promote compassion, forgiveness, and gratitude, leading to improved mental and physical health.
However, spiritual beliefs can also be a source of conflict and division, leading to discrimination and intolerance. It's, therefore, essential to respect others' beliefs and remain open-minded and accepting of different viewpoints.
Spirituality is a complex and multifaceted concept that involves connecting with ourselves, others, and the world around us. It's a quest for truth and meaning that can lead us to a sense of purpose and fulfillment.
By understanding the difference between spirituality, faith, and religion, we can better appreciate the role of spiritual beliefs in human lives and promote tolerance and acceptance towards others.
The Intersection Of Science And Spirituality
Spirituality and science can coexist in harmony as they both reveal truths about the world around us. While science is based on logical reasoning and evidence, spirituality deals with the non-physical aspects of life.
Scientific Studies Of Spirituality
Scientific researchers have been trying to understand spirituality through a number of studies.
Some of the key points include:
Studying the effects of prayer and meditation on the human brain
Exploring the correlation between spirituality and mental health
Investigating the influence of spiritual beliefs on individual behaviour
Neuropsychology Of Spirituality
Neuropsychology is the study of the relationship between the brain and behaviour.
Here are some of the key points regarding the neuropsychology of spirituality:
The prefrontal cortex, which is responsible for decision-making and personality traits, is also associated with spiritual experiences
Research has shown that spiritual activities can positively influence brain activity and cognitive function
The brain's reward system is activated during spiritual practices which leads to feelings of pleasure and fulfillment
The Science Behind Spiritual Healing And Practices
There are a number of spiritual practices that are believed to promote healing and well-being.
Here are some key points regarding the science behind these practices:
Acupuncture, a traditional chinese medicine, stimulates the release of endorphins which can reduce pain and inflammation
Yoga has been scientifically proven to reduce stress and improve mental health
The placebo effect demonstrates the mind's power to help heal the body
Scientific studies can provide insights into the benefits and effects of spiritual beliefs and practices.
Understanding the intersection of science and spirituality can provide a more holistic approach to our overall well-being.
Major Spiritual Belief Systems In The World
Since the beginning of time, spiritual beliefs have been an integral part of human culture. It is a way for people to seek a higher meaning or purpose in life.
The world is home to numerous spiritual belief systems, but some hold more prominence than others.
Here are some of the world's major spiritual belief systems and what they represent:
Christianity
Christianity is one of the world's most significant religions. It is based on the teachings of jesus christ and is centered around the belief that he is the son of god.
Christians believe in one god, the holy trinity of the father, the son, and the holy spirit, and the concept of salvation.
Here are some essential aspects of christianity:
Christians believe in eternal life after death.
The bible is the holy book for christians.
Jesus christ's crucifixion and resurrection are central events of christianity.
Judaism
Judaism is one of the oldest monotheistic religions in the world. It is based on the belief in one god, the creator of the universe, who revealed himself to the prophet Moses. The holy book of Judaism is the Torah, which contains god's laws and teachings.
Here are some essential aspects of Judaism:
Jews worship god, who they believe has a special relationship with the Jewish people.
The Sabbath, a day of rest and worship, starts at sundown on Friday and ends after the stars come out on Saturday.
Jews celebrate several significant festivals throughout the year, such as Passover and Hanukkah.
Islam
Islam is an Abrahamic religion that believes in one god, Allah. Muslims believe that Muhammad was the last prophet and that the Quran is the holy book of Islam. Islam means "submission to the will of Allah," and Muslims are expected to follow the five pillars of Islam.
Here are some essential aspects of Islam:
Five times a day, Muslims pray to face the direction of Mecca.
Muslims fast during the month of Ramadan, abstaining from food and drink from dawn to dusk.
Muslims are expected to give to charity, which is one of the five pillars of Islam.
Hinduism
Hinduism is one of the world's oldest religions and is based on the belief in reincarnation, karma, and dharma. Hinduism is not just a religion but a way of life, with various beliefs, customs, and traditions, many of which vary from region to region.
Here are some essential aspects of hinduism:
Hindus believe that the ultimate goal of life is to achieve moksha, or liberation from the cycle of birth and death.
Karma is the belief that a person's actions have consequences in this life and the next.
Hinduism has four main castes: Brahmins, kshatriyas, vaishyas, and shudras.
Buddhism
Buddhism is a non-theistic religion and is based on the teachings of siddhartha gautama, also known as the buddha.
Buddhists do not believe in a personal god, but instead, they seek to achieve enlightenment through the four noble truths and the eightfold path.
Here are some essential aspects of buddhism:
The goal of buddhism is to achieve the state of nirvana, which is the ultimate state of enlightenment.
Buddhists believe in the concept of impermanence, which means that everything in life is constantly changing.
Buddhists practice meditation as a means of achieving enlightenment.
Indigenous Spirituality
Indigenous spirituality is the traditional spiritual beliefs and practices of indigenous peoples around the world. These beliefs and practices vary widely, depending on the culture, location, and history of the indigenous community.
Here are some essential aspects of indigenous spirituality:
Indigenous spirituality is deeply connected to nature, and many indigenous cultures believe that everything in life is interconnected.
The spiritual practices of indigenous peoples often involve ceremonies, rituals, and storytelling.
Indigenous spiritual beliefs and practices are often passed down from generation to generation.
Understanding The Diversity Of Spiritual Belief Systems
Spiritual beliefs are diverse and complex, and each belief system has its unique characteristics that make it special.
Understanding the nuances of these spiritual beliefs can cultivate greater empathy, respect, and appreciation for the diversity of human culture.
Benefits And Drawbacks Of Spiritual Beliefs
Positive Effects Of Spirituality On Mental Health
A person who follows spiritual beliefs typically reports an elevated sense of purpose and meaning in their life.
It can reduce the risk of anxiety, depression and other mental health issues as spirituality provides a source of comfort and solace.
People who are spiritual have better coping mechanisms when dealing with traumatic and stressful situations.
It can also help alleviate feelings of loneliness and social isolation, creating a sense of a wider community.
Negative Consequences Of Extreme Faith
Extreme spiritual beliefs can lead to the development of a superiority complex, which can lead to bigotry and intolerance.
People with extreme spiritual beliefs have been known to engage in unethical or even harmful practices in the name of faith.
A sense of superiority can also cause individuals to ignore scientific evidence and seek out dubious cures or treatments for physical and mental health ailments.
Balancing Spirituality And Rational Thinking
One of the main challenges for those with spiritual beliefs is reconciling their beliefs with scientific fact and rational thinking.
Finding a balance between the two is crucial for mental wellbeing and overall satisfaction with life.
Education and exposure to different worldviews and perspectives can help individuals maintain a healthy balance between spirituality and rationalism.
Developing critical thinking skills and staying open to new ideas can also help avoid extremist tendencies.
FAQ On What Is The Meaning Of Spiritual Beliefs
What Is The Definition Of Spiritual Beliefs?
Spiritual beliefs are an individual's faith in a higher power and their personal connection to it.
How Do Spiritual Beliefs Differ From Religion?
Spiritual beliefs are personal whereas religion is when a group of people practice the same rituals and beliefs.
How Do Spiritual Beliefs Affect Mental Health?
Spiritual beliefs can provide comfort, hope, and a sense of belonging. They can also reduce stress and anxiety.
Can Someone Have Spiritual Beliefs Without Practicing Religion?
Yes, an individual can have spiritual beliefs without practicing religion. It is a personal connection between the person and a higher power.
Conclusion
As we come to the end of our discussion on the meaning of spiritual beliefs, it is important to acknowledge that spirituality is a deeply personal and individual experience.
Each person's spiritual journey is unique, and there is no one-size-fits-all definition when it comes to spirituality.
However, at its core, spiritual beliefs are rooted in a sense of connection to something greater than oneself, whether it be a higher power, the universe, or simply a broader sense of humanity.
Spiritual beliefs can provide comfort, guidance, and a sense of purpose, and can also play a role in personal growth and well-being.
Ultimately, whether you adhere to a specific religious tradition or have a more eclectic spiritual outlook, your beliefs can help you navigate life and find meaning in the world around you.