Spiritual Meaning of the Horse
The spiritual meaning of a horse symbolizes freedom, nobility, and wisdom. Horses often represent strength and power, as they have been used in warfare and for work for centuries. They also represent grace and beauty, from their majestic presence to their delicate features.
Four spiritual meanings of the horse are:
Freedom: Horses are free-spirited animals that are symbolic of freedom. Their ability to roam freely is an example of being able to do whatever we want in life and of taking responsibility for our own personal journeys.
Nobility: Horses have been admired for their strength, grace, and intelligence, and they have been prized throughout history. They are a symbol of nobility and represent the character traits of honesty and courage that we should aspire to.
Wisdom: Horses have a special understanding of their environment and are in tune with the natural world. They represent wisdom and the ability to learn from our experiences. They also symbolize our connection to the spiritual realm.
Power: Horses are strong, powerful animals and can be symbolic of the power we have to take control of our lives. They are often a symbol of victory, resilience, and strength of spirit.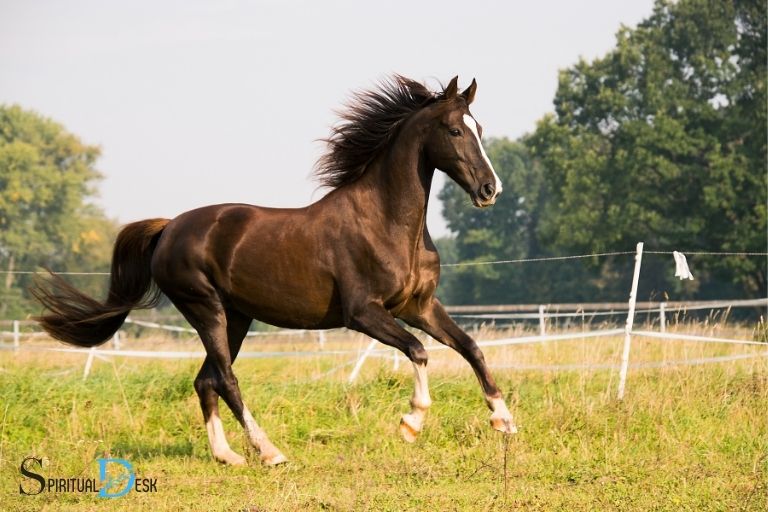 In essence, a horse can represent many different things, but at its core, the spiritual meaning of a horse is freedom, nobility, wisdom, and power.

spiritualdesk
Horses are inspiring and mysterious creatures that have been important in many cultures for centuries. They hold a special place in our hearts, minds, and spiritual beliefs, and their presence is a reminder of the beauty and strength
What Does a Horse Represent Spiritually?
A horse is a powerful symbol in many cultures and religions around the world. In some belief systems, horses are seen as sacred animals that represent strength, power, and freedom. In others, they may be seen as a symbol of wealth or status.

Horses have been revered throughout history for their beauty, grace, and strength. They are often seen as a symbol of freedom because they can travel quickly and easily over long distances.
Horses are also associated with healing and transformation in many cultures.
In some Native American traditions, horses are considered to be medicine animals. They are believed to have the ability to connect humans with the spirit world and to help us access our own spiritual power.
Horses are also thought to represent wisdom and guidance in many indigenous cultures.
The horse is an important figure in Chinese mythology. Horses are often used as symbols of nobility, success, and good fortune.
In Buddhism, horses represent one of the six major positive emotions (along with lions, elephants, peacocks, snakes, and lotuses).
In Buddhism, horses represent one of the six major positive emotions (along with lions, elephants, peacocks, snakes, and lotuses).
A white horse is said to represent purity and spiritual enlightenment; while a black horse represents ignorance and suffering.
What Does the Horse Represent in the Bible?
Horses are mentioned many times in the Bible, often in connection with warfare. They are also used as a symbol of strength and power. In some cases, they may represent God's people or followers of Jesus Christ.

The horse is first mentioned in the book of Genesis when Abraham's servant uses them to travel back to his homeland to find a wife for Isaac. Later on, we see horses used in war by the Israelites and their enemies.
For example, King David defeated the Philistines with his mighty chariot army that included horses (1 Samuel 30:17).

Throughout Scripture, horses are consistently associated with strength and power. In Revelation 6:8, we see that one of the Horsemen of the Apocalypse is named "Death" and he brings destruction wherever he goes. This shows us that horses can be used for good or evil purposes depending on who is riding them.

Regarding God's people, horses can symbolize both triumph and defeat. In Exodus 14:9, we read about how Pharaoh's army was pursuing the Israelites after they had escaped from slavery in Egypt.
But God intervened and caused the Egyptian soldiers to be drowned in the Red Sea while the Israelites rode safely on dry land – a miraculous victory!

On the other hand, sometimes God's people were not so fortunate in battle despite having horses on their side.
One example is found in 1 King 22:4-28 where King Ahab of Israel went into battle against King Jehoshaphat of Judah even though Jehoshaphat had warned him not to go ahead with it because they would be outnumbered by their enemies.
As predicted, Ahab was killed in battle and his army was defeated – all because he ignored God's warning and went ahead with what seemed like a good idea at the time.
Why is a Horse a Symbol of Power?
A horse is a symbol of power for many reasons.
First, horses are large and strong animals that have been used by humans for transportation and labor for centuries.
They are also associated with royalty and the military, two groups that traditionally have held a great deal of power in society.
In addition, horses are considered to be noble and majestic creatures, and their gracefulness has often been seen as a metaphor for power.
Let's Watch A Video: Horse Symbolism & Meaning!
Horse Symbolism Bible
Horses are a symbol of power and strength in the Bible. They are often used to represent God's power and might. In the book of Revelation, horses are used to represent the four horsemen of the apocalypse.

The white horse represents purity and righteousness, while the red horse represents war and violence. The black horse represents death and destruction, while the pale horse represents sickness and disease.
Horses can also be a symbol of transportation or travel, as they were often used in ancient times to get from one place to another.
What Does a Horse Symbolize
A horse is a powerful symbol in many cultures. In the western world, horses are often associated with freedom and power. They are also seen as noble creatures that represent strength and grace.

Horses have been used in warfare for centuries, and their image is still evocative of bravery and heroism. In literature and film, horses often play key roles in stories of adventure, romance, and mystery.
To many people, horses are simply beautiful animals that evoke a sense of wonderment. Their graceful movements and majestic appearance can stir up feelings of awe and admiration.
Brown Horse Spiritual Meaning
The brown horse is associated with the earth element and its energies of stability, security, and grounding.

When we see a brown horse in our dreams or visions, it can represent our need for these qualities in our lives. It can also be a sign that we are connected to nature and the natural world around us.
The color brown can also symbolize new beginnings, fresh starts, and new growth. If you have been feeling stuck or stagnant in your life, seeing a brown horse can be a sign that it's time to make some changes. Trust your intuition and go with the flow!
Conclusion
The horse is a powerful symbol in many cultures and religions. In the Bible, horses are often associated with war and death, but they also represent strength, power, and freedom.
In ancient Greece, horses were sacred creatures that were believed to be able to carry the souls of the dead to the afterlife. In Chinese mythology, the horse is a symbol of good fortune and success.