Dogs Seen in Spirituality
Discover the profound connection between dogs and spirituality in various cultures throughout history. Unravel the sacred bond that transcends beyond mere companionship, elevating our four-legged friends to spiritual guides.
Dogs feature prominently in spirituality because they symbolize loyalty, protection, and guidance.
They hold significant roles in various religious and mythological traditions such as:
Ancient Egyptian mythology: dogs were connected to Anubis, the god of the afterlife.
Native American spirituality: dogs were valued as spiritual teachers and helpers.
Norse mythology: Garm, a dog-like creature, guarded the entrance to the realm of the dead.
Hinduism: Yama, the god of death, is accompanied by two four-eyed dogs that guard the road to the afterlife.
In these rich traditions, dogs not only act as physical protectors but also help facilitate journeys between worlds or provide spiritual guidance.
Their unwavering loyalty and strong instinctual connections make them profound symbols in the realm of spirituality, illustrating mankind's deep bond with these extraordinary animals.
| Culture/Religion | Dog Symbolism | Notable Dogs/Mythical Dogs |
| --- | --- | --- |
| Ancient Egypt | Guardians, Guides | Anubis, god of the afterlife |
| Hinduism | Loyalty, Dharma | Yudhishthira's dog (Mahabharata) |
| Norse Mythology | Protection, Loyalty | Garmr, guardian of Hel's gate |
| Greek Mythology | Guardians, Companions | Cerberus, guardian of Hades |
| Christianity | Loyalty, Humility | Saint Guinefort, a greyhound saint |
| Chinese Mythology | Loyalty, Protection | Panhu, divine dog and culture hero |
| Native American | Healing, Friendship | Dog spirit guides in various tribes |
| Japanese Mythology | Loyalty, Protection | Okuri-inu, a protective spirit |
Dogs Seen in Spirituality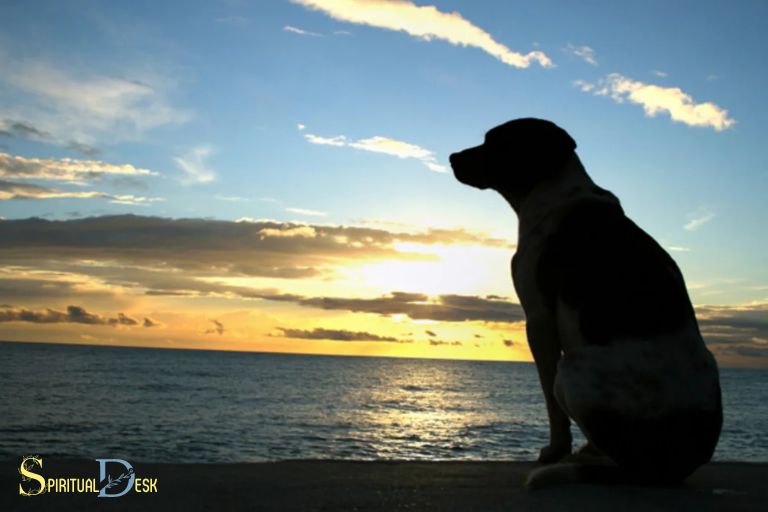 The Spiritual Representation of Dogs Across Different Religions
Dogs hold unique spiritual significance in various religions, symbolizing attributes like loyalty, protection, and guidance. They are considered sacred in different belief systems and associated with spiritual guardians and divine messengers.
In Hinduism: Dogs are associated with Lord Dharma, representing righteousness and justice.
In ancient Egyptian mythology: Dogs are linked to Anubis, the god of the afterlife and mummification.
In Christianity: Dogs are often depicted as protectors, guiding and helping humans on their spiritual journey.
In Native American culture: Dogs are considered spiritual allies, assisting in healing and hunting rituals.
In Zoroastrianism: Dogs are seen as the companions of the spiritual guide, Mithra.
The Symbolism of Dogs Through Ancient Folklore
Dogs have played a significant role in ancient folklore and spirituality, often symbolizing loyalty, protection, and guidance. They've been revered across various cultures as guardians, guides, and companions.
In ancient Egypt, dogs were associated with Anubis, the god of the afterlife.
In Greek mythology, Cerberus is a three-headed dog that guards the entrance to the underworld.
Native American tribes often considered dogs as guides to the spirit world.
In Norse mythology, Garmr is a dog that guards the entrance to the realm of the dead.
In Hinduism, the god Bhairava has a dog as his vehicle.
In Chinese mythology, dogs are seen as one of the twelve zodiac animals and are believed to bring fortune.
Fact: In various African folklores, dogs are known to possess supernatural abilities and often act as intermediaries between humans and the spirit world.

spiritualdesk
Understanding the Spiritual Significance of Dogs in Dreams
In spiritual realms, dogs appearing in dreams often hold deeper symbolic meanings related to intuition, loyalty, and protection. They can act as guides or represent personal traits within the dreamer's psyche.
Symbol of loyalty and companionship
Spiritual guardians and protectors
Connection to primal instincts and intuition
May represent fears or anxieties
Dogs in dreams can also symbolize relationships and trust
Random Fact: In various spiritual traditions, dogs are considered as powerful spirit or guardian animals, and throughout history, they've been linked with themes of intuition, spirituality, and protection.
Video On: The spiritual aspect of dogs
Conclusion
In conclusion, dogs have played a significant role across various religions and ancient folklore. They have been symbolized as protectors, messengers, guides, and even companions for the afterlife. Similarly, dogs in dreams are considered spiritual and can represent loyalty, protection, and unconditional love.
Understanding the symbolism of dogs can deepen our spiritual connection and teach us valuable life lessons. It is fascinating to explore the multifaceted roles of dogs in different cultures and their spiritual significance.
For those interested in learning more, there are various resources available on the subject, including books and online articles.
FAQ
How are dogs viewed in spirituality?
Dogs are often seen as spirit guides and protectors in many spiritual traditions, and frequently represent loyalty, devotion, and courage. In some cultures, dogs are seen as a symbol of companionship, faithfulness, and unconditional love.
What is the significance of dogs in spiritual practices
Dogs are thought to provide spiritual protection and guidance in many spiritual practices. They may be viewed as guides that can steer one closer towards enlightenment and self-discovery. Additionally, they are believed to bring good luck and ward off negative energy.
Are certain breeds of dogs more suited for spiritual practices?
While any dog can provide spiritual guidance, some people believe certain breeds of dogs have specific spiritual qualities. For example, huskies have traditionally been associated with guidance and protection, while German Shepherds are seen as symbols of courage and loyalty.
Are dogs inherently spiritual animals?
Many people believe that dogs have strong spiritual qualities that empower them to act as guides and protectors. Some cultures have even gone as far to say that dogs have special spiritual powers that distinguish them from other animals and give them unique abilities to provide spiritual guidance.
What Does Seeing a Dog Mean Spiritually?
Seeing a dog in a spiritual context signifies loyalty, protection, guidance, and unconditional love. Dogs represent our soul companions who assist us in navigating life's challenges with trust and devotion.
Dogs as loyal companions and protectors in many cultures and traditions
Canine symbolism in various faiths and mythologies, such as Anubis in ancient Egypt, and Panhu in Chinese mythology
As a spirit animal, the dog provides guidance, support, and encouragement on our spiritual journey
Similarities between dogs and the divine, such as unconditional love and unwavering devotion
Lessons learned from dogs to enhance our spiritual growth, like living in the present, accepting ourselves, and practicing gratitude
What Do Dogs Teach Us Spiritually?
Dogs have long been seen as spiritual guides, offering humans valuable lessons on unconditional love, loyalty, and selflessness. Their innate intuition and connectedness to the natural world open our hearts to deeper compassion and understanding.
Unconditional Love: Dogs offer unwavering affection, teaching us how to love unconditionally and genuinely care for others.
Loyalty: Their steadfast loyalty demonstrates the importance of trust and commitment in relationships.
Living in the Moment: Dogs' ability to fully experience the present moment helps us learn mindfulness and authenticity.
Overcoming Fear and Forgiveness: Dogs often overcome past traumas and cruelty, exemplifying the power of resilience, forgiveness, and transformation.
Non-Judgment: Dogs are non-judgmental by nature, reminding us to be accepting and open-hearted towards others.
Table: Lessons Learned from Dogs Significance
| Lesson | Significance |
| --- | --- |
| Unconditional Love | Embrace genuine love and care for others, regardless of circumstances |
| Loyalty | Strengthen the value of trust and commitment in relationships |
| Living in the Moment | Develop mindfulness and appreciate the present |
| Overcoming Fear and Forgiveness | Cultivate resilience and forgiveness in the face of adversity |
| Non-Judgment | Practice open-hearted acceptance and empathy towards others |
Lessons Learned from Dogs Significance
Can Dogs Sense a Spiritual Person?
Dogs are intuitive creatures that can sense a person's energy and mood, which could lead them to recognize a spiritual person. They might be drawn to the calm and positive energy that spiritual people emit.
Dogs can pick up on subtle cues and energy from humans
Spiritual people often project a calm and positive energy
Some believe that dogs have a heightened sense of intuition
There are anecdotal stories of dogs being drawn to spiritual individuals
Did you know? Many ancient cultures believed that dogs held a special connection to the spiritual world, and they have often been seen as guides and protectors in spiritual practices.

spiritualdesk
What Do Dogs Usually Symbolize?
In spirituality, dogs often symbolize loyalty, protection, and unwavering companionship. They can represent intuition, guidance, and the ability to conquer adversity with grace.
Loyalty: a dog's fierce loyalty to its owner is a common theme.
Protection: dogs protect their loved ones without hesitation.
Companionship: dogs offer unconditional love and support.
Intuition: a dog's natural instincts can be representative of higher intuition.
Guidance: dogs often act as guardians, guiding souls through difficult times.
Overcoming adversity with grace: dogs teach us resilience and adaptability.
Spiritual Meaning of a Dog Crossing Your Path
In spirituality, a dog crossing your path often symbolizes loyalty, protection, and guidance. These faithful creatures are believed to act as messengers from the divine and serve to comfort and assist you on your life's journey.
Loyalty: Dogs are recognized for their devotion and steadfastness towards their loved ones.
Protection: Individuals who encounter dogs frequently may sense a feeling of security and safeguard in their presence.
Guidance: Just as dogs lead their pack or their owner, they can also act as a guiding figure in one's life.
Stray Dog Spiritual Meaning
Stray dogs hold a significant spiritual meaning in various cultures and belief systems, often symbolizing guidance, protection, and loyalty. They are seen as messengers from the divine or spiritual world, guiding us through life's challenges and offering insights into our journey.
Guidance: Stray dogs may appear in our lives to lead us toward a new path or direction.
Protection: They can be seen as guardian spirits, keeping us safe from harm and negative influences.
Loyalty: Stray dogs embody loyalty, teaching us the value of being faithful to others and our own beliefs.
Messengers: In some cultures, stray dogs are believed to carry messages from the spiritual realm, offering wisdom and insights.
Transformation: Encountering a stray dog can symbolize a shift or transformation in our lives, urging us to embrace change and growth.
Dog Spirit After Death
In spirituality, the dog spirit after death is believed to continue existing in a different realm, maintaining a connection with their human companions.
Many cultures and religious beliefs share the common idea that our canine friends have souls that persist after death, providing comfort and guidance to the living.
Dogs seen as spiritual beings in various cultures and religions
Belief in an everlasting connection between dogs and humans
Canine spirits providing comfort and guidance to the living
How to Spiritually Connect With Your Dog
The process of spiritually connecting with your dog involves building a strong emotional bond, deepening your understanding of their behavior, and tapping into their spiritual energy.
This connection can lead to increased understanding, better communication, and a harmonious relationship between you and your canine companion.
Practice mindfulness and empathy around your dog
Engage in shared activities like meditation, yoga, or walks in nature
Communicate with your dog through touch and eye contact
Observe and learn from your dog's natural instincts and behavior
Consult with an animal communicator or pet psychic for a deeper connection